Nevada's oldest Climate Records
Nevada's oldest climate stations are Fort Churchill, Camp Halleck and McDermitt. All three locations were Army posts, as the U.S. Army Signal Corp., predecessor to the National Weather Service,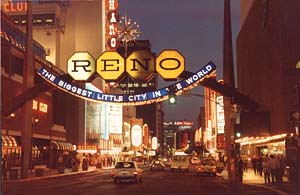 Weather records in Reno date back to 1870.

was responsible for weather duty in the late 19th century. Many of the earliest weather records in the Western United States come from Army Camps like Churchill, Halleck, and McDermitt. Records began at Ft. Churchill in December 1860 and continued sporadically into May 1869 when the Fort was abandoned. Two very wet months were noted, as 4.05" fell in December 1861 and 4.84" in January 1862. This 8.89" two-month total was nearly double the annual average, and undoubtedly caused floods in Western Nevada, much like the catastrophic floodwaters that were inundating Northern and Central California at that time. (California's capitol Sacramento was under water for two months.) The Camp Halleck rain gage record began in November 1862 and continued until November 1886. During the month of December 1869, 7.62" of precipitation was recorded, nearly the average total for a whole year! The McDermitt area boasts the longest climatic record in Nevada with data beginning in 1866. When the Transcontinental Railroad was completed, rain gages and thermometers were installed during the 1870s at most railroad stations such as Wells, Elko, Battle Mountain, Winnemucca, Lovelock, and Reno.

Early Las Vegas Weather Records

In June 1895 E. B. Kiel, owner of the Kiel Ranch (located near present-day North Las Vegas off Carey Road) became the first official Las Vegas Weather Observer. In October 1900 he reportedly committed suicide after shooting his brother. His recordings of temperature, mainly high temperatures, seem much too low, with only a few 100º+ days. No record shows it, but perhaps the thermometer shelter was shaded under trees in the summer. Otherwise Kiel was an excellent observer. Some of his more noteworthy measurements were a low of 19º in November 1896, 11º in January 1898, and 11º in February 1899. He noted that a 20º reading on March 26, 1898, "killed all fruit and early vegetables." Also, "hailstones as large as quail eggs" fell on August 5, 1898.

After Kiel's death, H.R. Stewart took over for only April 1901. It was not until August 1907 that J.M. Heaton, an employee of the San Pedro , Los Angeles and Salt Lake Railroad became the third Las Vegas weather observer, and began official readings again, this time across the tracks from the Railroad Depot. Heaton lasted for only two years (to June 1909), but he did record 35º on May 1, 1908, still the lowest May temperature ever recorded in Las Vegas. He also noted that it was 14º on November 30, 1908, which is another record low monthly temperature for Las Vegas that still stands.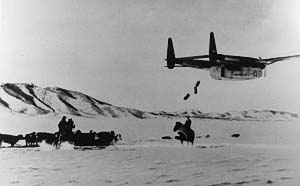 During the harsh winter of 1948-49, deep snow and sub-zero temperatures threatened free-range Nevada livestock. Operation Haylift saved the day.
The fourth Las Vegas weather observer was on the job for a long time. Charles "Pop" Squires served from 1909 until 1956, two years before his death at 93. His 47-year reign at 411 E. Fremont Street behind his Las Vegas Age newspaper office is still Nevada's longest. From 1945-1956 Squires moved the weather station to his house at 408 S. Seventh St. near Las Vegas High School. With his death the Las Vegas downtown record ended. The National Weather Service began observations in 1937 at the old Western Air Express Office near present day Nellis AFB, then moved 14 miles southwest to McCarran Airport in 1948.
Las Vegas Snowstorms
(Significant snowstorms over the Las Vegas Valley since 1949)
| | |
| --- | --- |
| Date | Amount |
| January 10–12, 1949 | 9.7 inches |
| January 4–5, 1974 | 9.0 inches |
| January 30–February 2, 1979 | 7.8 inches |
| January 25, 1949 | 4.7 inches |
| November 15, 1964 | 4.0 inches |
| January 28, 1979 | 2.4 inches |
| January 19–20, 1949 | 2.3 inches |
| December 15, 1967 | 2.0 inches |
Carson City Observatory
Charles William Friend built Nevada's first Observatory in 1875 with a six-inch refracting telescope. Born in Prussia in 1835, Charles immigrated to California with his father during the 19th century Gold Rush. Friend apprenticed as a jeweler and optician, the profession that brought him to Carson City in 1867. He got Nevada's first telescope from the federal government through the efforts of U.S. Sen. William Stewart (whose name graces Stewart Street). In 1880 he added various weather instruments, including a precipitation gage, sheltered thermometers (both dry and wet-bulb), two mercurial barometers, an anemometer and other instruments. He also had an early seismograph in the basement of the Capitol. In an 1883 report Friend noted: "All the thermometers are placed in an instrument shelter, made of lattice blinds and projecting 20 inches from a large pane of glass in the north wall of the observatory, 12 inches from the window and at the height of the eye of the observer. The thermometers are placed on wooden bars one inch square, and while there is free access of air to the shelter, all radiant heat and rain or snow are effectually excluded."
Friend utilized an "ordinary wind vane" to gauge the direction of winds and a Robinson's anemometer to determine wind velocity. This device had four hemispherical cups attached to the ends of equal horizontal arms, forming a cross that spins with the wind. The rain gage sat on a post 15 feet above the ground. Rain and snow collected in a copper cylinder 16" high and 8" across. The water fell into a cone with a quarter-inch tube at the end that transported the water into a glass cylinder where the rainfall was measured.
In 1887 he was appointed by the governor as Director of the Nevada State Weather Service, the first such appointment by any state in the United States. He held that post until he died in 1907. During his tenure as Nevada's first weatherman he worked with the U.S. Army Signal Corp., the Transcontinental Railroad, and others to enlist volunteer weather observers and install weather stations around Nevada, bringing the total to 37 stations. * The data collected were used to better understand Nevada's climate and make accurate weather forecasts for the first time.
A plaque commemorating Charles W. Friend, dedicated in 1999 where the Carson City Observatory was located, can be found in the grassy area just east of the Nevada State Library and Archives on Stewart Street. After Friend died the Nevada Weather Service was abandoned and no official weather readings were taken again in Carson City until the Sierra Pacific Power Company volunteered in 1923. These observations were taken until 1941 about two blocks northwest of the present-day Post Office near where the old Virginia & Truckee Railroad roundhouse sheds were located. In 1941 the weather equipment was moved to the roof of the State Highway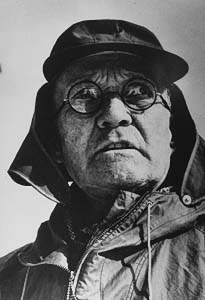 James E. Church is credited for his principal role in developing the science of snow surveying, which measures snowpack water content in order to greatly improve flood control and reservoir management.

Department at West 2nd and Carson Streets. It remained there until moved in 1965 to the roof of the new Department of Motor Vehicles building east of Stewart Street. In 1976 it was installed on the ground at the Department of Motor Vehicles until 1984, when it was moved to the Carson City Fire Department on Snyder Street in southeast Carson City, where it remains today.

*In the summer of 1904, University of Nevada, Reno professor, Dr. James E. Church, repeatedly climbed 10,800 foot high Mount Rose in order to build a shelter in which he could install a remote weather observatory. He began recording snow and weather conditions on Mt. Rose for the National Weather Service in 1905. Church, a "favorite son" of the university and also known as the "Father of Snow Surveying," was the first to record high-altitude weather in the Sierra Nevada.

Early Reno Weather Records

The Reno weather record is one of the longest in Nevada. Southern Pacific Railroad employees kept daily precipitation data at the corner of Commercial and Lake Streets from December 1870 to January 1888. In January 1888 the rain gage was moved to near Morrill Hall on the University of Nevada campus, and maximum-minimum thermometers were added. Agricultural experiment station personnel took the readings. After 18 years (November 1905) the equipment moved to the Thoma-Biglow building at First and Virginia streets until 1910. Wind instruments and a recording rain gage were also added, with the National Weather Bureau taking readings. In March 1910 the office was moved two blocks to Second and North Center streets. Another move relocated the station to the Post Office building on South Virginia and Mill streets (NOTE: The downtown readings from 1905-1942 were all rooftop locations). An airport station site, at that time called Hubbard Field, was established in January 1931. The airport was renamed United Airlines Airport and further changed to the Reno Municipal Airport in 1953. Concurrent observations were recorded in the city and at the airport from January 1931 through August 1942, when the Post Office station was closed. As of 1999 an airport location has been in effect for 68 years.