Notable Reno Records
Coldest temperature: minus 19º in January 1890
Hottest temperature: 108º in July 2002
Wettest month*: 6.76" precipitation during January 1916
Snowiest month*: 66" in January 1916
*January 1916 snowfall totals were phenomenal in Western Nevada, setting records that still stand. An intense mid-month blizzard that lasted just 12 hours and 40 minutes dumped more than 22 " of snow on "The Biggest Little City" which exceeded Reno's previous 24-hour record from January 12, 1911, by nearly three inches. Reno's 65.7 inch total snowfall in January 1916 exceeded the January 1890 snowfall record by more than 11". Reno finished the 1915-16 season with a record 82.3" of snow!
Ten Driest Water Years in Reno
(October to July Precipitation)
2001: 2.04 inches or 30% of normal
1924: 2.57 inches or 38% of normal
1948: 3.06 inches or 45%
1885: 3.17 inches or 46%
1976: 3.26 inches or 48%
1883: 3.35 inches or 49%
1981: 3.45 inches or 51%
1966: 3.46 inches or 51%
1879: 3.54 inches or 52%
1991: 3.70 inches or 54%
(Normal precipitation for Reno, October to July: 6.82 inches.)
Nevada's most intense recorded rainfall
Nevada's most intense recorded rainfall occurred on May 29, 1896 at Cloverdale Ranch, about halfway between Gabbs and Tonopah.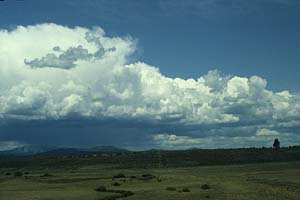 Summer thunderstorms occasionally cause deadly flash floods in the Silver State.

Observer F. G. Troy reported 8.50" in one hour, with 6.50" in a half-hour. He also reported that large hailstones stripped trees of leaves and that the first half-hour was "a regular waterspout" with much flooding. The Cloverdale Ranch still exists but it is now abandoned. Regional newspapers offered eyewitness accounts to other severe weather events occurring in Northern Nevada at that time.

The Carson Weekly wrote, "Friday morning hailstones fell nearly an inch in circumference and the last fall was accompanied by a deluge of rain, the like of which is seldom seen. The Carson River rose two feet."

The Walker Lake Bulletin reported not only rain, but weather that also caused transportation problems: "A washout between Wabuska and the Reservation last Friday caused four cars on the north-bound train to leave the track. Nobody was hurt. Hailstones as large as quail eggs fell in Hawthorne last Friday. It sounded as if old Jupiter Pluvius was throwing stones on the house roofs."

The Carson Morning News observed, "Friday's hail storm was very disastrous to the west side of Carson Valley mowing down the alfalfa and killing chickens. On one ranch, eighteen fowls succumbed."

The Free Press of Elko reported: "The heavy storm of last Friday did considerable damage in Huntington and on the South Fork. Mr. Martin had just finished seeding his grain. The rain-washed it all out. The fruit trees on Walther's Ranch were also badly damaged by hailstones."

The Central Nevadan stated, "A cloud-burst occurred at Empire on last Thursday afternoon. A torrent rushed into the river near Morgan Hill, taking with it some 1,000 tons of tailings."

*According to Nevada Climatologist John James, "It seems that F.G. Troy made an accurate observation of the effects of a very severe thunderstorm, of which there were several reported Statewide that day. Unfortunately, most of them missed the rain gages that were extant in those early days."

Heavy Downpours of Note

1.87" in 24 minutes: July 28, 1984 — Las Vegas Airport
1.98" in 30 minutes: July 23, 1923 — Downtown Las Vegas at "Pop" Squires weather station on Fremont Street.
3.66" in 60 minutes: August 27, 1980 — Elko
6.50" in 30 minutes and 8.06" in 60 minutes: May 29, 1896 — Cloverdale Ranch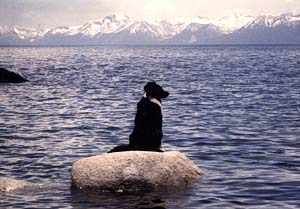 My dog Elko, named after his birthplace in Nevada, waits patiently for the next winter storm at Lake Tahoe.

Back to Introduction.